Finish Above the Rest with SnowCap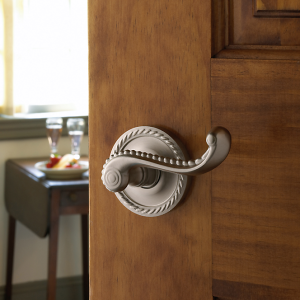 SnowCap Decorative Hardware is a family owned and operated business that places high value on providing each and everyone one of our clients with the highest level of service and attention to detail in the decorative hardware selection, installation and service process of custom home building.
As managing owner, I founded SnowCap Decorative Hardware in 2009 after spending years in the business working for other companies. As others took short cuts in service and selection, I knew there was a better way. By creating a company that consistently delivers on the value proposition: Service, knowledge and attention to detail will always deliver a successful project, SnowCap Decorative Hardware lives up to its "finish above the rest" motto.
In the past six years SnowCap Decorative Hardware as grown from a "one-woman show" to a successful small business with with 5 employees and a showroom in beautiful Hotchkiss Colorado. SnowCap has countless displays that are  available for your use. We are happy to bring them to you or would love to see you here in Hotchkiss.
My team provides custom home and commercial builders from Boulder, Denver, Colorado Springs, Fort Collins, Steamboat Springs, Vail, Aspen, Telluride and all points in between with our special high-touch service. What makes us different is the time we take with our clients to ask the right questions upfront and get the order right the first time. We have the knowledge of the other components in the process to ensure the timing and fit are in sync. We even take the time to label each piece of hardware before delivering it to save you time on the job. All this attention to detail adds up to less stress, less cost and less time for our clients.
All at SnowCap Decorative Hardware call Colorado our home, our lifestyle and our place of business. We have many great relationships within the construction industry and with dozens of national decorative hardware manufacturers. We have the expertise, selection and partnerships to fit many project, styles and budgets. While our job is small in the overall construction process, it is such an important one to get right. After all, we provide the places where you interact with a building—in essence the "touchpoints" of a home.
Please give me a call and let us show you what "finish above the rest" truly means.
Sincerely,
Shelly Ware